Visit Tudor Kentwell
"Thank you for leaving the boring bits out!"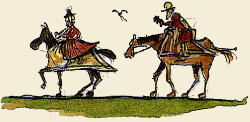 During a visit to a Kentwell Tudor Re-Creation your children will immerse themselves in the sights, sounds and smells of the 16th Century.
Kentwell is one of the finest moated Tudor Houses in England surrounded by its own park and extensive historic outbuildings. Twice a year we turn back the clock. For a period of time the entire Kentwell 25 acre estate is as it was in Tudor times.
Visiting children enter our Time Tunnel (in summer only) to become visitors to the Manor of Kentwell, and will be treated as such by all they meet. We have up to 250 folk living on the manor, who will not simply tell the children about what a Tudor used to do. They are Tudor folk, re-living the life of the time as people of all walks of life, and for the period of their trip the children will be part of that community.
WE ARE NOW TAKING BOOKINGS FOR THE MICHAELMAS 2015 TUDOR EVENT - Monday 21st and Tuesday 22nd September
Please email us at schools@kentwell.co.uk to make sure you are on our mailing list!