Visit Tudor Kentwell
"Thank you for leaving the boring bits out!"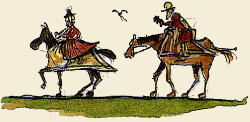 Kentwell is one of the finest moated Tudor Houses in England surrounded by its own park and extensive historic outbuildings. Twice a year we turn back the clock and, for a period of time, the entire twenty-five acres of Kentwell's estate is as it would have been in Tudor times.
Kentwell's re-creations are unique. They offer a scale and depth unmatched anywhere, giving total immersion in the sights, sounds and smells of the 16th Century.
Visiting children become visitors to the Manor of Kentwell, and will be treated as such by all they meet. We have up to 250 folk living on the manor, who will not simply tell the children about what a Tudor used to do. They are Tudor folk, re-living the life of the time as people of all walks of life, and for the period of their trip the children will be part of that community.

Visitors experience the full sensory impact of a Tudor community. Children will see how the rich and those who worked for them lived and worked close together, and were dependent upon, and respected each other.

The Re-Creations are based in and around one of England's finest moated Tudor Halls and its extensive grounds, and set amidst unspoilt Suffolk countryside.

It is the scale of Kentwell's Re-Creations which so impresses - usually 100 to 150 'Tudors' in a range of different activities in a wealth of appropriate buildings and settings show a wide cross-section of everyday Tudor life.
WE ARE NOW TAKING BOOKINGS FOR TUDOR KENTWELL 2016 - Monday 27 June to Friday 1 July
Please email us at schools@kentwell.co.uk to make sure you are on our mailing list or call 01787 310207 to find out more!